MY LUMU POWER EXPERIENCE - Review by Nikolai Hasenhütl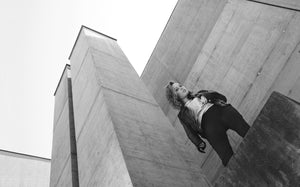 First of all I'd like to mention that this review of the Lumu Power isn't sponsored and I'm writing about my honest impressions that I've had so far with the Lumu Power. The reason why I'm doing this is because I really believe in this product and I want to share my experience that I've had.
As the name suggests, it is a super powerful device that measures not only ambient light, but also flashlight and color temperature. The light meter itself is pretty small and easily fits into a pocket. It connects via a lightning port with an iPhone and as I've plugged it in for the first time, the Lumu App, that I've previously downloaded from the App Store before, opened up and a handful of options were available to select on my screen.
Illuminance

Photo Ambient

Photo Spot Metering

Cine/Video

Photo Flash

Color Temperature

Chromaticity
The app itself is completely easy to use and since I own the Lumu Power, it never crashed. The app displays all the settings that I was familiar with from other light meters. It even had a few options more that I'm going to write about later. It wasn't hard at all to get to know these options and how to properly use them.
As a photographer I love and shoot mainly fashion, portraits and documentary style images. In addition to that I also work with bands (doing promo shoots, covering their concerts and shooting music videos). 
A week or two after the Lumu Power finally got delivered I had a fashion shoot coming up. The shoot itself took place at a botanical garden. Both indoor and outdoor locations were on our schedule and we had to keep up to stay on time. I like to use the time that I have for the actual shooting part and less caring about all the technical stuff. And that's exactly where the Lumu Power is really coming in handy. Most of the images of this day had ambient light mixed with flashlight.
The metering worked really fast and most importantly extremely accurate, the app even displays how much of the light is ambient light and how much is flash. I never saw this option at another light meter. This way it was really easy to balance out the lighting setup (and it's also great fun to use as well :-) ) The conditions at the location were different at each individual setup, ranging from a hot, and desert kind of environment to a rainforest type of habitat with high humidity.
I was really impressed with the performance of the Lumu Power in all of these different conditions and I'm really stoked on the resulted images. When you are using the photo mode, you can either set your aperture and measure the shutter speed or the other way around. Of course you can also set the ISO.
Another occasion where the device made everything easier and simpler was a music video shoot. We had interior and exterior scenes planned. Some were set at dusk, some at bright day light and one particular scene was located inside a huge, dark basement. In most scenes we were using multiple artificial lights at the same time and being able to precisely measure the color temperature is a huge bonus over a "traditional" light meter. We were recording with several cameras at the same time and with the accurate measurements that we've made, we were able to dial in all cameras at the same settings.
Another really amazing feature is the "Cine/Video" mode. Which allows the user to set specific factors that are important when working with a video camera. In addition to set ISO, you can set the FPS (frames per second) and the shutter speed and measure the correct aperture. The Lumu Power comes with a nice, high quality black leather bag, most of the time I'm caring a camera with me, so I added a black leather band to the included and bag and wear the Lumu Power like a necklace around my neck.
These were just several occasions where I used the Lumu Power and where I was able to test every specific function.
My future plans with the Lumu Power:
In addition to all the upcoming projects where I'm going to use the Lumu Power for sure, I want to shoot definitely more analog film this year so it will be my sidekick whenever and wherever I'm using a camera.