LUMU 101: COLOR TEMPERATURE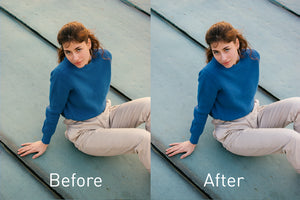 Light comes in a variety of different colors. Measured in Kelvin and ranging from warm to cool, a proper reading of white balance aka color temperature is essential for creative freedom in post-production, or giving a space its proper ambience and mood. Whether you are a photographer, filmmaker, designer or an architect -
Color temperature just might be the most important setting on your digital camera.
But it can sometimes be a hard thing to get right. With Lumu, we want we want to make sure your creative process is as smooth as possible. So follow these three basic steps to discover its full potential:
Connect your Lumu. Make sure the flat side of your Lumu is facing the light source.
Your results consists of two readings - Color temperature and Magenta shift.
All there's left to do is apply these into your camera settings.
If this is a permanent lighting setup you'll be using frequently you can easily save your readings, location and attach an image to It all. It's all saved in your notes.
Job well done.
Alternatively, measure the required color filter when using a multi light setup in a studio enviroment. Lumu will automatically show you the recommended color filter:
Here at Lumu, our goal is to reduce that gap between your creative vision and a wholesome final product. That being said, starting this week, we're launching a new segment of the Lumu experience on all of our social platforms - Lumu 101. Each week we'll provide beginners and professionals with tips on how to improve and become the master of your Lumu app, and take your skills to the next level.
Until next time,